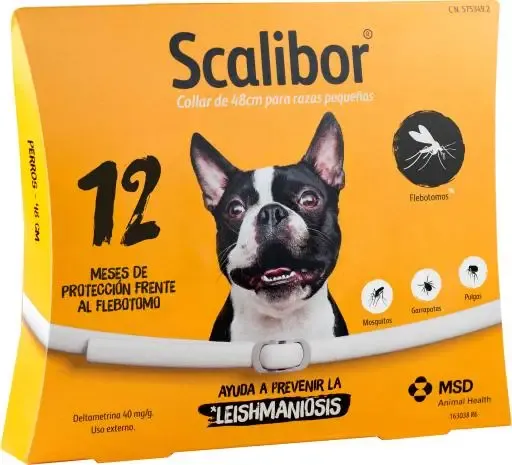 customer_also_bought_ani
Traveness

Traveness
Description
Antiparasitic Collar Scalibor
An easy and effective way to protect your dog from ticks, including those that may carry organisms that cause serious diseases such as Lyme disease and Rocky Mountain spotted fever.
Put a Scalibor® Protector Band on your dog and within 2 to 3 weeks of continuous wear, your dog gets proven, long-lasting tick protection that works for up to 6 months.


Description:
Scalibor ® is a new concept of antiparasitic collar. Its active ingredient, deltamethrin, a highly lipophilic constituent released and distributed on the lipid layer of dog fur covering his entire body in a week. Therefore, the innovative constant release of deltamethrin directly and exclusively on the dog's skin differs from most other collars, in which the active substance is released by evaporation. In these other flea collars, much of the active ingredient is lost and produce odour. And only a small fraction remains to protect the dog.
With Scalibor ®, the dog receives the necessary amount of deltamethrin day after day, for 6 months. The quick neurotoxic effect on the parasites of deltamethrin get optimum results for its antiparasitic action: Develop a repellent effect, so most of sandflies or ticks do not get to stay at the animal, thus preventing it from feeding. It causes nervous symptoms and prevents parasites both sandflies and fleas and ticks reach itch (anti food effect). Promotes the killing of parasites (lethal effect).
Scalibor ® provides protection 6 months against biting sandflies (Phlebotomus perniciosus) transmitters leishmaniasis. So, to protect Scalibor ® dog against biting sandflies, which also protect against leishmaniasis.
Scalibor ® is highly effective against ticks because deltamethrin is active in all stages of development: larvae, nymphs and adults and even in cases of massive infestation: experimental infestations in the evidence was massive (25 to 50 ticks) and repetitive (10 successive infestations).
Scalibor ® also proves effective for 4 months in the prevention of flea infestations (Ctenocephalides felis) as deltamethrin is highly effective against adult fleas (if not resistant populations synthetic pyrethroids).
Scalibor ® is safe for the whole family: Innovative technology and constant release directly on the lipid layer, optimizes the use of deltamethrin Scalibor ®. This is a major difference from other necklaces in the evaporative release makes much of the active substance is deposited on the ground and in the vicinity of the dog. Scalibor ® is shown fully effective even when the dog is wet: it is therefore not necessary to remove the collar if it comes in contact with water. This is a very important advantage over other necklaces, especially in areas of high rainfall.
Scalibor ® does not smell: Scalibor ® is odourless, so it does not cause discomfort to the dog or its owner or allowing regular contact with the pet.
Scalibor ® is effective for 6 months: Thanks to its long duration, up to 6 months Scalibor ® is very affordable for homeowners.
The Scalibor Collar provides:
Control of tick infestations (Ixodes ricinus; Rhipicephalus sanguineus) for 5 to 6 months.Control of blood sucking by phlebotomine sand flies (Phlebotomus perniciosus) for a period of 5 to 6 months.Anti-feeding effect on adult mosquitoes of the species Culex pipiens for 6 months.

Available in 2 sizes por all dogs.

Notice: Not suitable for cats.


Sizes:
48 cm collar for small and medium sized dogs contains 0.76 g deltamethrin per collar
65 cm collar for large dogs contains 1.0 g deltamethrin per collar
Features
Antiparasitic Collar Scalibor
Reference

7435628

Brand

Scalibor

Insects and parasites

Flea, Ticks, Leishmaniasis Mosquitos

Length

48 cm, 65 cm, 48 cm., 65 cm.

Dog Size

Medium, Maxi, Small

Type of Components

Chemical

Pet Weight

,
Customer Reviews
Antiparasitic Collar Scalibor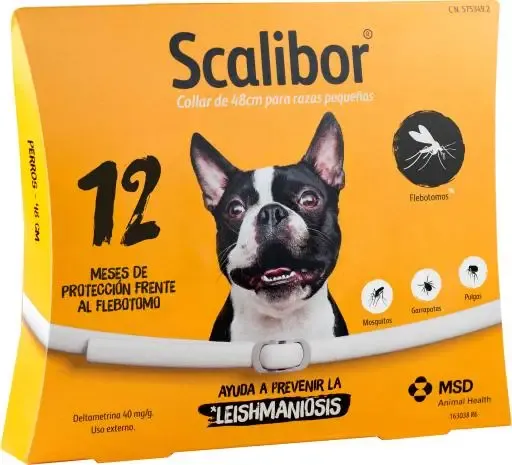 Coleira muito eficaz e de fácil colocação. Compensa o preço